Shopping Second-hand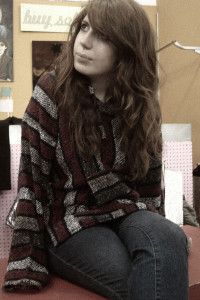 Rummaging through hundreds of pieces of clothing can be a pain. Looking for a simple t-shirt quickly turns into a chaotic two-hour ordeal of trying on colorful flannels and jeans that end up back on the shelves in no time.
But the real disappointment comes when shoppers find an outfit they really like, glance at the price tag and have to put it back on the rack. Especially in this time of economic downfall, second-hand vintage clothing stores can be the solution to empty wallets.
Places such as Wild Man Vintage and Arizona Trading Company (ATC) in the heart of downtown Lawrence have many things to offer those who want to find a trendy outfit for a trendier price. At ATC, someone can buy BDG jeans, which sell at Urban Outfitters for $39, for a mere $15. A stylish dress at Wild Man Vintage costs only $15.
"It's really affordable. People can get things that are super trendy," ATC employee Brandy Cay said. "You can get more for your money and keep your closet rotating."
Like ATC, Wild Man Vintage allows people to not only buy but also sell their clothes. Being able to sell old clothes and get either cash or store credit on the spot gives high school students even more advantages in this economic crisis.
Students benefit from the exchange of old clothes for money, and the store also profits by getting new inventory. Second-hand stores like Plato's Closet on Clinton Parkway make sure that the clothes are in good condition and that shoppers get enough credit for name brands.
"It's quality clothing," senior Brogan Sievers said. Sievers frequently shops at second-hand stores, proving that the clothing possibilities are not only open to female shoppers.
Not only are places such as ATC and Wild Man Vintage financially accommodating, but they also are easy to navigate. Clothes are sorted into different racks based on style. Whether shoppers are looking for an elegant dress or casual clothing, students will easily find what they are looking for due to the pristine organization of these vintage stores.
For a lot of high school students, money is the biggest issue.
"I'm a broke teenager," senior Holly Johnston said. "I like to go to ATC [because] they play good music and have a lot of good finds. I probably save about $50 when I actually go shopping. Easily."
But for people like senior Mysteri Henry, shopping at second-hand stores was never just to save money.
"I've always shopped at vintage stores," Henry said. "It's just what I do. [Vintage clothing] tells a story of the past."