MOVIE REVIEW: I Care a Lot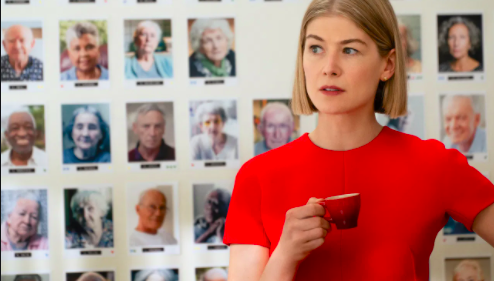 When a shady legal guardian lands in hot water after trying to scam an old woman who has ties to a powerful gangster. I Care a Lot stars Rosamund Pike (Gone Girl) Peter Dinklage (Game of Thrones) Dianne Wiest, and Eiza Gonzalez. 
Overall I really enjoyed the ride this film took you on. Pike plays a manipulative and greedy legal guardian who lights up the screen with her charisma, and sets the tone early on of her characters motivations. It's nice in the age of sequels and reboots you get a completely original idea that doesn't have the weight of any other films on its shoulders, and has the freedom to do whatever it wants. As you watch you start peeling away more about the main character Marla Grayson's operation, setting up the rest of the film to be this epic thrilling crime adventure. By far the biggest standout is Pike who is able to play a manipulative con artist with such ease that you can't take your eyes away when she's on screen, and definitely rivals her performance in Gone Girl. Even the side characters play off each other so well that even scenes without Pike you're intrigued and glued to. Even with being a smaller budget Netflix feature the action scenes are extremely well done without using too much cgi which tends to be distracting.
The final scene is my favorite part of the film, it's able to complete the arcs of these characters in the only way that makes sense and leaves you satisfied when the credits start rolling.
Depending on who you are this could be a negative but throughout you never have a character that you're rooting for to succeed so it tends to feel like you're an arms length away from the character. The third act also starts to become a little far fetch and begins to strain credibility especially the last 20 minutes.
I Care a Lot is a really solid crime thriller that I definitely recommend you checking out on Netflix.
Grade: B+
Leave a Comment